Regular price
$126.99 USD
Sale price
$66.99 USD
Unit price
per
Sale
Sold out
Brand: The Peanutshell
Color: Grey
Features:
23 MUST HAVE ACCESSORIES: This adorable gift set has all the clothes and linens you need for a new baby. It includes 4 short sleeve and 3 long sleeved bodysuits, 1 animal print zipper sleep sack, 5 beanies, 3 pairs of scratch prevention mittens, 3 burp cloths, and 4 receiving blankets measuring 30" x 30" that are perfect to help you wrap your child into a swaddle
SOFT 100% COTTON CLOTHING: Knit cotton is the top choice of many parents for its cozy, breathable qualities. You'll love these soft, 100% cotton baby clothes. The sleeping sack makes an excellent sleeper to keep your little one comfortable all night long. You can also use the bodysuits as pajamas or daytime clothes
MIX & MATCH: This cute baby gear set is perfect for winter, spring, and summer, and fall. The hats and mittens are a great way to keep your child warm no matter what the temperature is outside. These pieces are also great for layering under coats, winter suits, and blankets. If it's summertime, the bodysuits work great on their own as an outfit
BOY, GIRL, & UNISEX SETS: This must-have baby set is available in 3 colors: blue, grey, and pink. All kits also include unisex white accessories that are great for layering or on their own. You'll love the unique assortment of patterns, graphics, and animal prints in each set. Your baby will look adorable in these quality clothes
WINNER OF TOP PARENTING PRODUCTS AWARD: The Peanutshell Layette is the perfect baby shower gift for new parents. You can even place it in a basket or hamper for a present they'll never forget. There's no better way to prepare for a little one's arrival than stocking up on the basics. Since they're newborn sizes, they're perfect for welcoming brand new babies
Binding: Apparel
Details: As a collection of essentials and accessories for baby, this 23-piece Layette Set from The Peanutshell gives you all the best newborn must-haves! Purchase this set in pink, blue, or a gender-neutral grey. Each set includes basic white options as well, which are perfect for mixing and matching. This collection includes 4 short-sleeve and 3 long-sleeve bodysuits, 1 animal print zipper sleep sack, 5 beanies, 3 pairs of mittens, 3 burp cloths, and 4 receiving blankets measuring 30" x 30". The set makes a fantastic baby shower gift for any new parents in your life. The adorable sleep sack unzips easily for a little nap or nighttime slumber and stays more secure than a basic swaddle. For your on-the-go activities, 4 super-soft cotton flannel receiving blankets and 3 cotton knit burp cloths are included. They're perfect for swaddles, snuggles, and spit-ups. The 3 pairs of mittens and 5 coordinating beanies keep your newborn's tiny hands and head covered and cozy. With so many options, this set goes beyond the basics to create countless mix-and-match combinations for a girl, boy or both. Whether you choose pink, blue, or grey, you're sure to love the adorable animal-inspired prints and patterns. Your tiny babe will be the best-dressed kid in the neighborhood! All of these products are made with 100% cotton, so they're soft and comfortable against your baby's skin. They're also breathable, making them perfect for summertime or layering under other clothes. Your baby will stay cozy all day and all night long with these high-quality accessories.
EAN: 0841297129742
Package Dimensions: 11.5 x 8.8 x 5.0 inches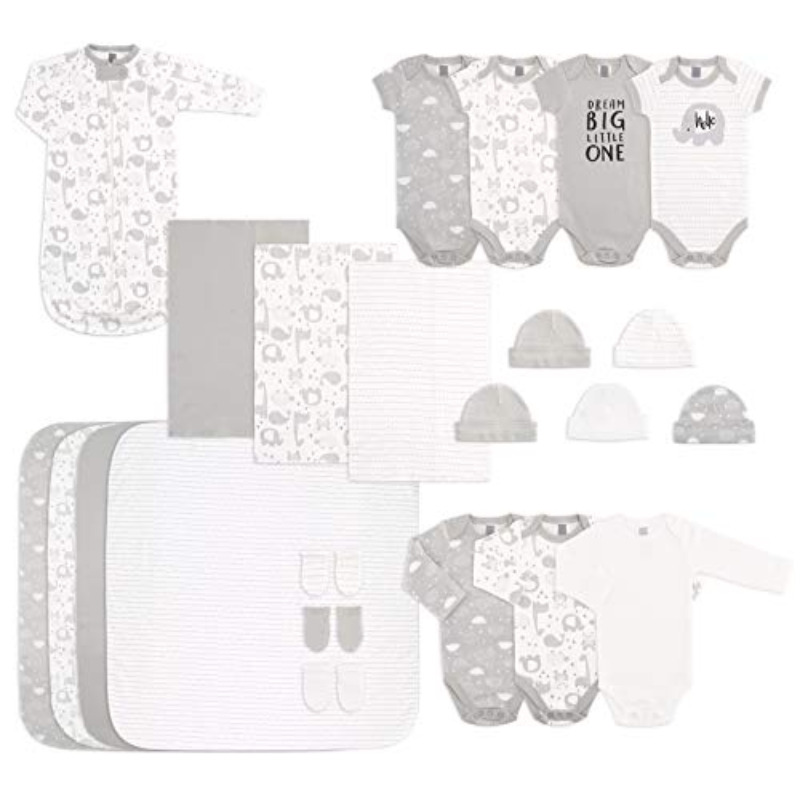 The Infants Unisex Clothes & Accessories 23 Piece Set, Grey 0-3 Months is a sensational customer favorite and we hope you like it just as much.


Shipping Information

 

Shipment Processing Time

Once payment have been confirmed, all orders are processed within 3-5 business days.  We are not responsible for any delays imposed by any shipping carries and their policies regarding extreme weather condition, weekend, holiday deliveries, handling and processing a high volume of shipments.  Please be advised due to COVID-19, some shipping limitations and or restrictions may apply. 

Shipping Rates & Delivery Estimates

Shipping rates and charges for customer order will be calculated at checkout (see rates shown below).  All orders that qualify for free shipping with weight requirement from (0lbs - 25lbs), will automatically display zero charges at checkout with shipping times varying from 5-18 business days.  

Shipping Times As Follow

Variety Plus Store - 5-18 Working Days (For ALL Free Shipping Offers), which include carriers such as Post, Express, USPS, DHL or other Worldwide Line of Services.  Free shipping is for orders that meet weight requirement of (0lbs - 25lbs), only!

Shipping Time (For Orders With Free Shipping)

Variety Plus Store:1-2  Weeks By USPS Postal (For All Free Shipping Offers) 

Variety Plus Store: 5-15 Days  By Express, Fast Shipping (For All Free Shipping Offers)

Variety Plus Store: 1- 3 Weeks By Other Worldwide Special Line Of Services  (For All Free Shipping Offers)

Additional Shipping Services & Cost - Customer Can Select (And/Or) For Orders That Does Not Meet Free Shipping Offers

Worldwide Express: 5-11 Working Days  $39.47- Up

USPS Priority & Int'l: 6-10 Working Days  $29.61 - $86.15

UPS Express: 3- 8 Working Days   $57.93 - Up    

Please be advised that Variety Plus Store does not have any control over shipping rates and any additional fees that may apply.  All shipping times and rates are subject to change. 

Shipment to P.O. boxes or APO/FPO addresses

Orders are mailed to the shipping address information provided by the customer.  We do not have any control over any shipping carrier's policies regarding PO Box or APO/FPO addresses.  

Shipment & Tracking Information

Shipping confirmation along with tracking information will be sent to the customer email address provided once payment have been received and order have been processed.

Additional, Customs, Duties, & Taxes

Variety Plus Store or any of its affiliated stores are not responsible for any custom fees and taxes applied to the customer order.  All additional fees imposed by shipping carriers during or after shipping are the responsibility of the customer.

Damages

Variety Plus Store or any of its affiliated stores are not liable for any package(s) stolen, damaged, undeliverable or lost during shipping.  If you received your order and it is damaged, please contact the shipping carrier directly to file a claim.  In addition, be sure to save all packaging material and damaged goods prior to filing a claim.

 Amazon Products 

This Section Only Apply To All (Review On Amazon Products) Shown On Our Website!

Any matters relating to interaction with an Amazon Site, customers must follow contact directions on Amazon Site to address customer service issues!

Shipping times to Contiguous U.S. vary depending on your location and selected shipping speed.

| Destination Country | Standard Shipping (business days) | Two-Day Shipping (business days) | One-Day Shipping (business days) |
| --- | --- | --- | --- |
| Contiguous U.S. | 4 to 5 | Within 2 | Within 1 |

Variety Plus Store is a participant in the Amazon Services LLC Associates Program, an affiliate advertising program designed to provide a means for sites to earn advertising fees by advertising and linking to: varietyplusstore.com 

| Region | Standard Shipping | Priority Shipping |
| --- | --- | --- |
| Asia | As fast as 20 days | As fast as 8 days |
| Australia | As fast as 14 days | As fast as 7 days |
| Canada | As fast as 13 days | As fast as 9 days |
| Carribean | As fast as 20 days | As fast as 14 days |
| Central America | As fast as 20 days | As fast as 8 days |
| Chile | As fast as 14 days | As fast as 10 days |
| China | As fast as 14 days | As fast as 7 days |
| Colombia | As fast as 8 days | As fast as 6 days |
| Europe | As fast as 15 days | As fast as 5 days |
| Hong Kong | As fast as 7 days | As fast as 4 days |
| Israel | As fast as 10 days | As fast as 6 days |
| Japan | As fast as 13 days | As fast as 6 days |
| Mexico | As fast as 7 days | As fast as 5 days |
| New Zealand | As fast as 10 days | As fast as 7 days |
| Northern Africa and the Middle East | As fast as 11 days | As fast as 7 days |
| Oceania | As fast as 30 days | As fast as 20 days |
| Republic of Korea | As fast as 9 days | As fast as 5 days |
| South America | As fast as 12 days | As fast as 8 days |
| Sub-Saharan Africa | As fast as 15 days | As fast as 10 days |
| United Kingdom | As fast as 10 days | As fast as 5 days |
View full details
Shipping

Our store ships merchandise worldwide. We occasionally offer free shipping with tracking information included on all merchandise excluding clearance items.

Variety Plus Store is a participant in the Amazon Services LLC Associates Program, an affiliate advertising program designed to provide a means for sites to earn advertising fees by advertising and linking to: varietyplusstore.com 

Full details

Returns & Exchanges

To submit a return or exchange request, please click on the (Return/Exchange Request) link shown at the bottom of our website. 

Read store policy